LED Spectrum Analyzer plug-in for iTunes
Version 3.0.7 - Intel Only for iTunes 10.4 and later [download]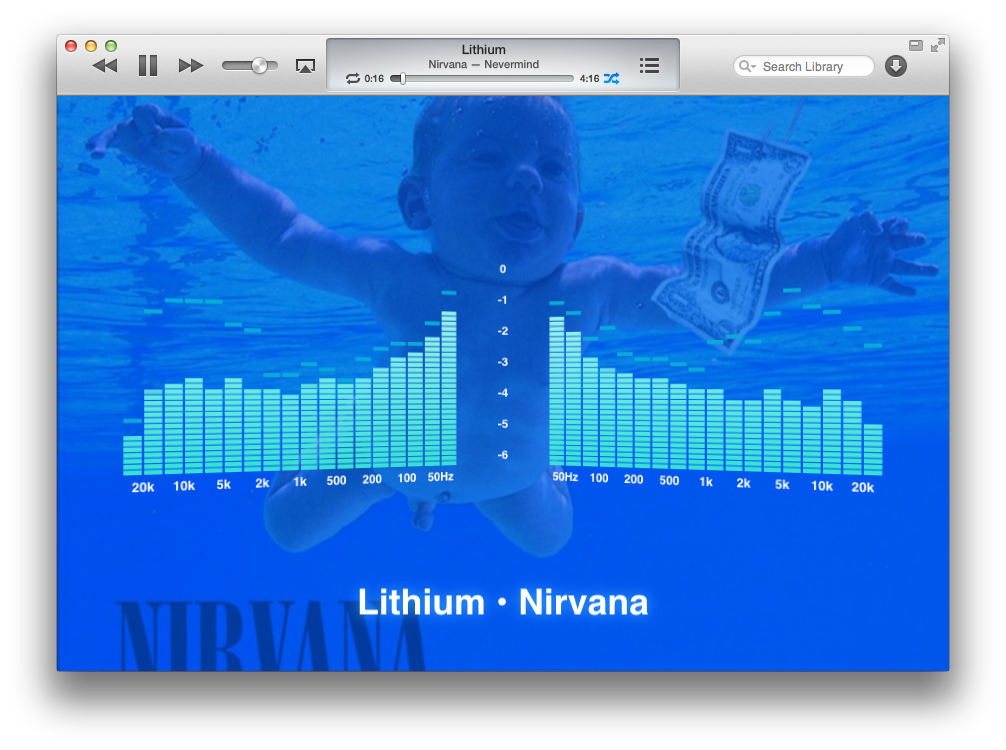 What is it?
This is a free visualizer plug-in for iTunes 10.4 and later on Mac OS X 10.5 (Leopard) or later.
What does it do?
It creates a spectrum analyser display in the style of a typical hi-fi system, using bargraph displays that emulate LEDs or similar electronic display technology. The bargraphs can show linear or logarithmic levels, and also the peak value of the signal in a number of frequency bands per audio channel. In addition it can show the overall level on a pair of VU (Volume Unit) bargraph meters. Numerous options are included to make a colourful and interesting display.
What do I do with it?
Copy or move the file "LED Spectrum Analyser.bundle" into the "iTunes Plug-ins" folder within your home folder hierarchy. The correct location is ~/Library/iTunes/iTunes Plug-ins, where "~" means your personal Home folder. If the plug-ins folder doesn't already exist, simply create it in the Finder, making sure it's named correctly. DO NOT DOUBLE-CLICK THE .bundle FILE! Within iTunes, the visualizer can be opened using the "LED Spectrum Analyser" menu item in the View > Visualizer menu. You need to Quit iTunes before moving this to the plug-ins folder to ensure that it loads it next time it runs.
How do I use it?
Start some music, choose View > Visualizer > Show Visualizer (cmd-T), sit back and enjoy the blinking lights! Once you get bored with that, you might wish to fiddle about with the settings. To do that, open the settings using View > Visualizer > Options... (or by right-clicking in the visualizer itself and choosing 'Visualizer Options...')
What about iTunes for Windows?
The visualizer will only work with the OS X version of iTunes.
---
About this version
iTunes 10.4 is a rewrite of iTunes using Cocoa. As such it largely retains the old visualizer plug-in model but adds support for modern graphics technologies. Since iTunes 10.x invariably broke the old version of this visualizer (2.0.x) in various ways, I have taken the opportunity to rewrite the visualizer from the ground up also, using Cocoa. It has also given me the opportunity to address most of the requests I've been asked for over the years, as well as rationalise the interface, drop some esoteric features while adding (hopefully useful) new ones. The main benefit of this version is that it reimplements the graphics using Quartz and OpenGL to thoroughly modernise the visualizer, which is now fully anti-aliased, self-scaling and features (optional) perspective and reflections. I hope you enjoy it!
---
© 1999-2014 Graham Cox